Humidifier+ | Antioxidant Humidifier
$209.99
$279.95
saving
$69.96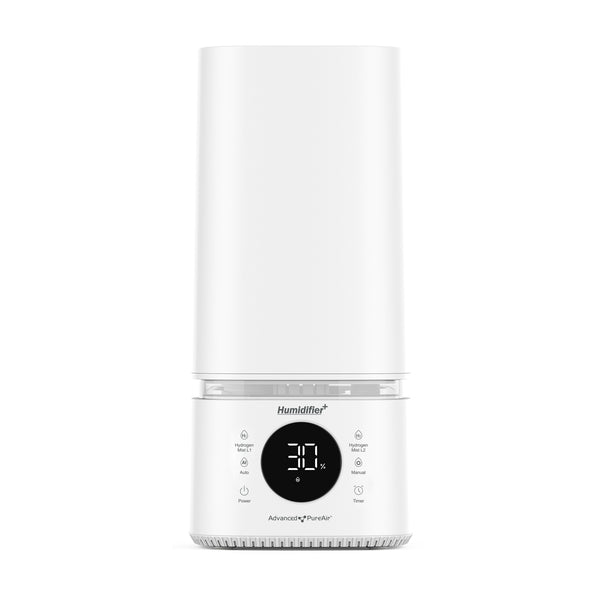 Humidifier+ | Antioxidant Humidifier
$209.99
$279.95
saving
$69.96
The Humidifier+ is a great addition to any home or office where you want relief from dry air and the associated symptoms for improved health and well-being. The large, 2-gallon tank can effectively cover up to 800 square feet and run for over 50 hours. This large space humidifier is easy to use, refill, and customize to your liking. With an Auto Mode that monitors the humidity levels, the Humidifier+ will automatically adjust the humidity output based on the current ambient air. The Humidifier+ also features a one-of-a-kind Hydrogen Mist mode where natural antioxidants are incorporated into the water being expelled from the humidifier. The antioxidant-rich mist helps with skin hydration and repair, easing allergy symptoms such as sinus inflammation, and may reduce snoring by providing moist air for the breathing passage. The unit also features a Sleep Mode where the display dims, lights turn off, and is whisper quiet for an easier night's sleep. When the tank is low on water, a red indicator light will come on and the Humidifier+ will automatically shut off.
Antioxidant-Rich | Natural antioxidant-rich mist helps to increase vitality, reduce inflammation, fight fatigue, combat free radicals, and more.

Extra Large Water Tank | 2 Gallon capacity is excellent for large rooms, capable of covering up to 800 square feet and running over 50 hours.

Ease Allergies | Humidification around 40-60% assists in reducing allergy symptoms, sinus inflammation, and improves the health of the mucous membranes of the airway.

Skin Hydration | Humidity levels below 10% can cause harsh damage to the surface of the skin. Topical treatments, such as moisturizers, may help short term, whereas an antioxidant humidifier will hydrate the skin and help the skin repair itself.

Loosen Congestion | Humidity helps to open your airways by loosening mucus blocking your airways, thus reducing snoring. Increasing air moisture makes it easier to expectorate when coughing or blowing your nose.