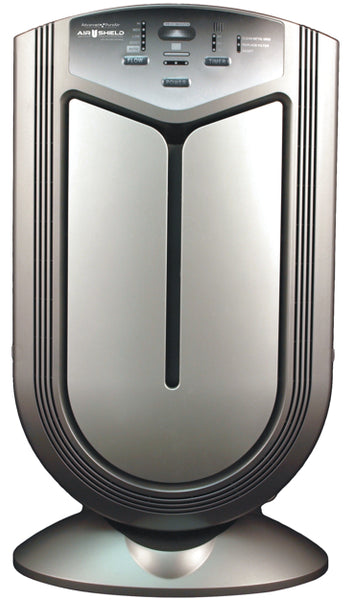 9-Stage detection, filtration, sanitation, and purification system. 
The Air Shield® is the ultimate air purifier for individuals and families who are looking for maximum disinfection of bacteria, virus, dust, pet dander, mold, and allergy relief while providing optimum air sanitation with low energy and maintenance costs. View the technologies at the link below.
Destroys bacteria and viruses while filtering pollen, smoke, air pollutants, odors, bacteria, germs, mold pet dander, dust removal rate up to 99.97%, and much more.
Air quality sensors monitor indoor pollution levels and automatically adjust fan speed in Auto mode maximizing purification effectiveness. 
High-performance multi-speed fan creates optimum air changes per hour and sensors indicate when it's time to replace the filter, increase fan speed, or wipe the machine down. 
Coverage up to 1200 sq. ft. (depending on room configuration) and wireless remote control included. 
5-year warranty from date of purchase for original owner.
Open Box and Bulk purchasing available call or text (775) 432-2861.